Wood Architecture Park | Piano Pavilion
Address: Borupinraitti 6, 15140 Lahti
Show map
Address: Borupinraitti 6, 15140 Lahti

Owned by the Wood in Culture Association, the building functions as a café in summer and as a meeting and function facility in winter. The building seats about 50 persons indoors and a further 100 on the terrace.
Designer: Gert Wingårdh
Completed in: 2008

A design for a kiosk and café was commissioned in 2000 from Renzo Piano, the first recipient of the International Spirit of Nature Wood Architecture Award. However, due to being fully booked for years to come, Piano declined the commission, and so Gert Wingårdh from Sweden, a member of the jury in 2000, suggested that he would design the building in the spirit of Renzo Piano's work. The pavilion is Wingårdh's first design commission in Finland.

The name, Piano Pavilion, refers to the person of Renzo Piano, but in a punning way it also creates a link to the arts. The spoon included in the pavilion's logotype is a reminder of the cutlery collection designed by Renzo Piano for Hackman-Iittala.

The building combines the use of massive wood and transparent glass. Its foundation consists of steel columns sunk to the bedrock, supporting transverse steel beams. The pavilion's frame is built of massive Kerto wood and gluelam, above which soars the roof construction with its boomerang-shaped gluelam beams. The roof is partly made of glass, as are also the walls and the terrace railings.
Show more
More information
Phone number
+358 (0)50 398 5809 / (0)50 398 5811
E-mail
Accommodation
Distance: 1.5 km
A traditional, pleasant hotel along the main street of Lahti. Superior rooms are an excellent accommodation alternative for more demanding customers!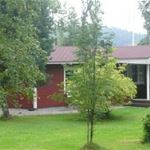 Cottages
Distance: 5.9 km
Kerttula is cozy wooden cottage, located in peaceful and quiet place on the shore of lake Vesijärvi. There is only 20 min drive away to Lahti, and a little bit more than 1 hour to Helsinki.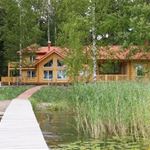 Cottages
Distance: 6.7 km
Villa Aleksi is spacious log villa made by Finnish Mammuttihirsi company. It has facilities for accommodation of 10 guests, so even bigger companies can stay together and relax from hustle and the bustle of big cities.