Hollola Church Village | Medieval Church
Address: Rantatie 917, 16710 Hollola kk
Show map

Address: Rantatie 917, 16710 Hollola kk

The Medieval Stone Church of Hollola, which was originally the catholic church of Pyhä Maria (Holy Mary) is located in the beautiful countryside in Hollola Church village.
Hollola Church is the landmark of the village of Hollola.

The culture-historical milieu of the village of Hollola is dominated by the Church of Saint Mary built in 1495-1510, and a belfry built in 1829-1931 according to the designs of C.L. Engel. Hollola Church is known for its richly decorated west gable end and the well-preserved wooden sculpture of the interior. The church underwent restoration in 1934-1935.

The nave has two aisles and there are ten so-called stellar vaults. The oldest part of the church is the sacristy on the north side, and the youngest part is the porch on the south side. A partly preserved wall painting of the Last Judgment can be seen on the wall of the porch when entering the church. The door leading from the porch into the nave is decorated with skilful wrought-iron work.

The pulpit dates from 1651 and the altarpiece, by an unknown artist, is from the late 17th century. On the north wall there is a group of funerary coats of arms of local noble families. The stained-glass paintings of the east wall were designed by the artist Lennart Segerstråle in 1929.

A restoration project jointly funded by the European Union, the authorities of the Province of South Finland and the Evangelical-Lutheran Congregation of Hollola was carried out between 2004 and 2006 in Hollola Church and its immediate surroundings. This project included conservation work on sculpture and the renovation of the walls of the church.
Show more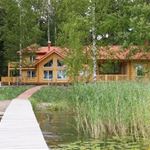 Cottages
Distance: 6.7 km
Villa Aleksi is spacious log villa made by Finnish Mammuttihirsi company. It has facilities for accommodation of 10 guests, so even bigger companies can stay together and relax from hustle and the bustle of big cities.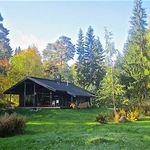 Cottages
Distance: 6.7 km
Wooden/log cottage by Lake Vesijärvi, 12 km north-west of Lahti.