Wood Architecture Park | Wooden Spiral
Show map
Richard Leplastrier was requested to design an architectural work at the junction of the Ankkurikatu and Niemenkatu streets in Lahti, and he prepared the design carefully on the spot in the summer of 2005.
Designer: Richard Leplastrier
Completed in: 2006

Leplastrier was inspired by the location of the sculpture. The roundabout is located at the foot of a steep hill, from the top of which is a view all the way to the Salpausselkä ski jumping towers. Due to the dramatic shape of the terrain, the work had to be of sufficient dimensions. The architect was also intrigued by the history of the area. The timber is shaped like railway sleepers, calling to mind the former rail tracks, sawmill, board stacks and timber storage in the area.

Leplastrier's original plan was to use recycled materials, such as old sleepers and rejected blocks of stone from a quarry. However, the use of old sleepers was not allowed because of the chemicals they contained. The stone blocks that had already been selected and marked were also accidentally sent to be crushed.

Because of its location and height, building the spiral proved a challenge. Calculating the strength needed to withstand the effect of wind and snow, for example, took a considerable amount of time.

The spiral consists of four blocks of stone topped by a spiralling timber grid. The height of the stone base is 3 metres, and that of the timber section 9 metres, bringing the total to 12 metres. The spiral is centrally stabilised by steel profiles anchored to the base plate of reinforced concrete.

The timber and metal sections of the work were assembled in the Salpaus Further Education college in Lahti.
Show more
Accommodation
Distance: 1.5 km
A traditional, pleasant hotel along the main street of Lahti. Superior rooms are an excellent accommodation alternative for more demanding customers!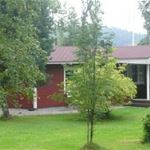 Cottages
Distance: 6.1 km
Kerttula is cozy wooden cottage, located in peaceful and quiet place on the shore of lake Vesijärvi. There is only 20 min drive away to Lahti, and a little bit more than 1 hour to Helsinki.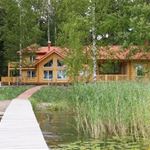 Cottages
Distance: 6.9 km
Villa Aleksi is spacious log villa made by Finnish Mammuttihirsi company. It has facilities for accommodation of 10 guests, so even bigger companies can stay together and relax from hustle and the bustle of big cities.