Häränsilmä is a beautiful kettle pond in Lahti on the first Salpausselkä ridge, right next to the routes and trails of Lahti Sports Centre. The urban nature trail "Lehmusreitti", which goes around the centre of Lahti, also runs by Häränsilmä. The kettle pond and its immediate surroundings form a nature protection area.
The Lahti Sports Centre area has several kettle holes, which give it its distinctive terrain, great for winter sports. The kettles were formed some 12 000 years ago, at the end of the last Ice Age, through the melting of enormous ice blocks that had split off from the continental ice sheet. These ice blocks were buried in the sand and gravel deposited by the glacial meltwaters. As the ice melted, the land around the blocks collapsed forming the pitted kettle landscape.

Sometimes the bottom of kettle is below the surface of the groundwater or perched groundwater, turning the kettles into kettle ponds. Perched groundwater is groundwater formed above the actual groundwater, on top of a water-impermeable layer. In the case of the Häränsilmä kettle pond, the perched groundwater has been dammed on top of a water-impermeable layer of till, and the pond lies about 20 meters above the groundwater surface.

The surface area of the Häränsilmä pond has originally been about one hectare, but as a result of natural overgrowth, the water surface has shrunk to one-fifth. The pond and its surroundings provide habitat for several plant and animal species.
Show more
Accommodation
Distance: 1.5 km
A traditional, pleasant hotel along the main street of Lahti. Superior rooms are an excellent accommodation alternative for more demanding customers!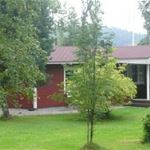 Cottages
Distance: 5.6 km
Kerttula is cozy wooden cottage, located in peaceful and quiet place on the shore of lake Vesijärvi. There is only 20 min drive away to Lahti, and a little bit more than 1 hour to Helsinki.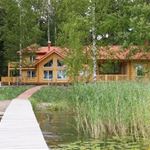 Cottages
Distance: 6.4 km
Villa Aleksi is spacious log villa made by Finnish Mammuttihirsi company. It has facilities for accommodation of 10 guests, so even bigger companies can stay together and relax from hustle and the bustle of big cities.