Linnaistensuo mire, located only seven kilometres from the centre of Lahti, is a nationally valuable raised bog. The tranquil mire landscape can be admired from the duckboard trail crossing it. Linnaistensuo mire is part of the national mire conservation programme and one of the sites of Salpausselkä aspiring UNESCO Global Geopark.
On Linnaistensuo mire, surrounded by mixed forests, moist hollows alternate with drier hummocks. The flora of mire is typical for raised bogs, and although no endangered plant species have been found, the representativeness of the mire makes it valuable protected site. You can also observe a variety of animals while visiting the mire, from many butterflies and birds to flying squirrels. The landscape of the mire varies according to the season, and it offers the visitor views to enjoy in all seasons.

The nature trail, about 1,5 kilometres long, runs mostly on duckboard trail. The information boards along the way tell about the mire ecosystem. Using the duckboards is encouraged when moving in the mire, especially in the spring and summer time, to avoid disturbing the animals nesting in the area. Berry picking is allowed, but even then, it is important to leave as few traces as possible, since the wet peat recovers slowly.

The Linnaistensuo nature reserve was formed to protect a representative sample of nature typical to the mires of the Lahti region. Most of the mires in Lahti region have been drained by ditches and taken into forestry use. At Linnaistensuo the ditches have been blocked to restore the natural state of the mire. Majority of the nature values remained. Linnaistensuo Mire belongs to the Natura 2000 network of the European Union.

Linnaistensuo mire can be reached along Korvenrannantie or Linnaistentie and Ilolantie roads. The paths leading to the duckboard trail are marked on the trees with yellow paint.
Show more
Accommodation
Distance: 6.7 km
A traditional, pleasant hotel along the main street of Lahti. Superior rooms are an excellent accommodation alternative for more demanding customers!
Cottages
Distance: 11.5 km
Taivaanranta is a luxurious villa , located in a sunny place near the lake Kivijärvi. Up to 8+2 people can be accommodated in the villa. Taivaanranta is decorated in a modern style.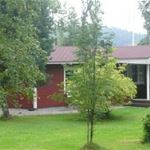 Cottages
Distance: 13.6 km
Kerttula is cozy wooden cottage, located in peaceful and quiet place on the shore of lake Vesijärvi. There is only 20 min drive away to Lahti, and a little bit more than 1 hour to Helsinki.