Tiirismaan kierros hiking trail
Show map

The Tiirismaa tour is a 4.5 km long hiking trail that runs on very varied terrain and interesting nature sites. In the west, you can admire the Great Lake Tiilijärvi from the vantage point that is named Tilki's peek. From the lookout point, when returning to the route, you step into the forest line and when climbing the hill, after the rain, you will hear an underground creek under your feet. At an altitude of 220 meters from the sea level you can fry sausages at Martha's lean-to. In the northeast you can admire Pirunpesä's rock crack.
The terrain of the Tiirismaa and Pirunpesä Nature Reserve is varied and in some places very rocky.

You can load the map from the contact information below.
In nature, one must be careful not to harm the environment. The garbage must be removed and the fire can not be ignited if forest fire warnings are in force. The hiking etiquette also includes taking all the natives into account. In nature conservation areas, rules must be taken into account in a very specific way. Squid or quartz stones should not be collected, while berries and mushrooms belong to everyman's rights.

The Tiirismaa tour will take you to the starting point of Arvi Hauvonen road where signposts and orange paint marks guide the route back to the parking lot. The journey time is estimated to be about 2.5 hours. The route is classified as moderate. The height difference along the route is about 70 meters.
Show more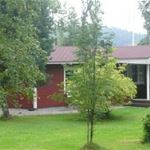 Cottages
Distance: 2.3 km
Kerttula is cozy wooden cottage, located in peaceful and quiet place on the shore of lake Vesijärvi. There is only 20 min drive away to Lahti, and a little bit more than 1 hour to Helsinki.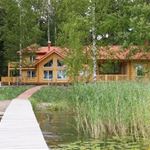 Cottages
Distance: 2.3 km
Villa Aleksi is spacious log villa made by Finnish Mammuttihirsi company. It has facilities for accommodation of 10 guests, so even bigger companies can stay together and relax from hustle and the bustle of big cities.