The 7.5 km long Tiilijärvi Lake trail in Hollola loops around three lakes, Vähä-Tiilijärvi, Keski-Tiilijärvi and Iso-Tiilijärvi. The trail consists of flat terrain, forestal paths and wooden duckboards. The northern part of the trail is steeper and great for hikers looking for a more challenging walk. Along the trail there are places with beautiful views over the lakes, the Soisalmensuo marsh and a hazelnut grove with all of their fauna. Enjoy the unique outdoors close to the city.
The starting point of the trail is situated near the public beach of Vähä-Tiilijärvi, on Vähä-Tiilijärvenkuja road. You can find a map of the route on the left side of the beach. The trail runs on southern side of the Lake Vähä-Tiilijärvi, continues north on the western side of the lakes and returns back on the southwestern slope of Tiirismaa hill. Time estimate for the trail is bit over two hours and the difficult classification of it is intermediate.

The trail is guided with signs and painted blue marks. Along the way you will find information boards which also include a map of the trail. There are several places to rest along the trail, but the nearest campfire spot can be found in Martan maja -lean-to shelter. The lean-to shelter is situated along the Tiirismaa kierros trail, about 1,5 km from the Tiilijärvi Lake trail. Along the route, there is an opportunity to visit the Tiirismäki relic site, that consists of several fascinating relics.

The three clearwater lakes are spring-fed and getting their waters from the groundwaters of the First Salpausselkä ridge, and the lakes form one of the geosites of the Salpausselkä aspiring UNESCO Global Geopark. There are public beaches on the shores of the lakes where you can take a refreshing swim or spend longer periods of time. The largest of the lakes, Lake Iso-Tiilijärvi, is also a popular diving destination.
Show more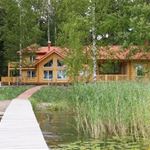 Cottages
Distance: 4 km
Villa Aleksi is spacious log villa made by Finnish Mammuttihirsi company. It has facilities for accommodation of 10 guests, so even bigger companies can stay together and relax from hustle and the bustle of big cities.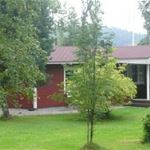 Cottages
Distance: 4.1 km
Kerttula is cozy wooden cottage, located in peaceful and quiet place on the shore of lake Vesijärvi. There is only 20 min drive away to Lahti, and a little bit more than 1 hour to Helsinki.