Hammonjoki
Address: Nummelantie 48, 16710 Hollola kk
Show map
Address: Nummelantie 48, 16710 Hollola kk

Hammonjoki River is situated near the parish of Hollola and gets its waters from the springs of the gravel ridges of Salpausselkä and falls into Lake Vesijärvi. The river is one of the only trout rivers in the watersheds of Vesijärvi with naturally reproducing char and trout strains.
In the mid-90's a new page was turned in the history of Hammonjoki. Local residents and communities decided to turn it into an attractive fly-fishing destination.

As a fishing destination, Hammonjoki is divided into two separate fishing-permit areas. In the downstream, between the lakes Vesijärvi and Koveroistenjärvi is the Area 1 which is the longer one reaching 1.5km in length, while the Area 2 runs from the southern end of Koveroistenjärvi all the way to the confluence of the creek Sepänpuro and river Laavijoki.

The surface area of the Hammonjoki watershed is 45km2. The main riverbed has got two names; Kiikunjoki at the start, turning to Sepänpuro farther on. The river widens to the lake Koveroistenjärvi which then runs down to lake Vesijärvi as Hammonjoki.

Fishing in Hammonjoki is allowed only with fly-fishing equipment using barbless hooks. Usage of stationary traps are forbidden in the river area, at the starting point of Hammonjoki, in Lakes Vesijärvi and Koveroistenjärvi.

Fly-fishing license for Hammonjoki and Fisheries management fee is required from fishers in Hammonjoki.
Show more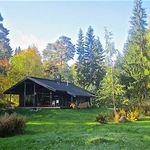 Cottages
Distance: 11.1 km
Wooden/log cottage by Lake Vesijärvi, 12 km north-west of Lahti.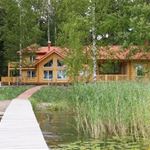 Cottages
Distance: 11.1 km
Villa Aleksi is spacious log villa made by Finnish Mammuttihirsi company. It has facilities for accommodation of 10 guests, so even bigger companies can stay together and relax from hustle and the bustle of big cities.