Paddling in the Päijänne National Park
Show map
The Päijänne National Park is located in southern lake Päijänne, in the area of Asikkala, Padasjoki and Sysmä municipalities. The pristine waters, esker islands, rugged cliffs and bird islets of Päijänne National Park form an entity that is unique in terms of landscape and nature, perfect for even longer paddling trips.
There are several route options, as well as starting points for the trip. One of the popular starting places for a trip is the Mainiemi Paddling Centre in Padasjoki, where you can also rent a kayak or canoe with the necessary equipment. More information about the rental can be found on the website https://padasjoenlatu.org/in-english/.

In the area of the National Park there are many campfire places, some of them with tent sites as well. The most popular destination is eight-kilometer-long esker island, Kelvenne. There you can stop to rest or camp say on wide and shallow sandy beach of Isohieta, or the sheltered cove of Nimetön. Other nice places to rest or spend the night can be found, for example, in the rocky Vähä-Haukkasalo island, where a sharp-sighted paddler can find a rock painting on the rocky cliff of nearby Haukkasalo island.

Some of the islands and islets are protected during the bird's nesting season (from 15 April to 31 July), and it is worth leaving a respectful gap to these no-landing islands so the peace of the birds' nesting can actually take place. In order to avoid weathering the delicate land of the National Park, prefer landing on the campfire places and camp only in tent sites.

Follow the park regulations and outdoor etiquette, respecting nature and fellow hikers https://www.nationalparks.fi/en/hikinginfinland/visitorguidelines and stay safe while paddling. Avoid the largest open waters, as strong winds can cause big waves. Also avoid fairways, as there is a lot of boat traffic in the area in the summer. You can find the map and more information about the National Park behind the link below.
Show more
Cottages
Distance: 9 km
A holiday village in Padasjoki, by Lake Päijänne and close to Päijänne National Park. There are four cottages for 7+3 persons and two cottages for 12+3 persons. Only 2,5 hour trip from Helsinki by car.
Cottages
Distance: 9.4 km
Log cottage by Lake Päijänne, 35 km north of Lahti.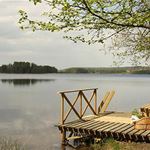 Cottages
Distance: 11.9 km
35 km north of Lahti. Lake Päijänne 40 m, clay bottom. Own boat.