Immilä Mill
Address: Arrajoentie 88, 15560 Nastola
Show map
Address: Arrajoentie 88, 15560 Nastola

Flour was already ground at the rapids of Immilä in the Middle Ages, and the oldest written information on the mills there dates from 1548. The first sawmill at Immilä was built in the 1760s, by which time the nearby hill was inhabited and also had an inn. The 19th century saw the arrival of more inhabitants, and a village craftsmen and millers arose on the hill. Even after the Second World War, there were three flour mills, two sawmills and a hydroelectric power plant with additional machinery (including a shingle-cutting plane) in the rapids at Immilä. The last of these to close down was the sawmill, in May 1969.

The Immilä mill and the old buildings near it were restored in 1997-1999, and since then the mill has been open to visitors. In addition to the old mill, there is an exhibition each summer. Its themes have included old mills of the locality, old maps and post cards, and oral tradition on mill elves and folk beliefs. The mill has become a popular destination for local visitors and it makes use of local history and knowledge of the locality in its activities. The mill also features a summer theatre and recitation performances. Especially popular events are community singing evenings at the rapids, fairs, special events and summer festivities also involving the nearby meeting hall (Seurantalo),
On nearby Myllymäki hill is the Immilän Myllykahvila café, noted for its high standard and also featuring also a sales exhibition of crafts.
Show more
Cottages
Distance: 13 km
Taivaanranta is a luxurious villa , located in a sunny place near the lake Kivijärvi. Up to 8+2 people can be accommodated in the villa. Taivaanranta is decorated in a modern style.
Accommodation
Distance: 19.8 km
A traditional, pleasant hotel along the main street of Lahti. Superior rooms are an excellent accommodation alternative for more demanding customers!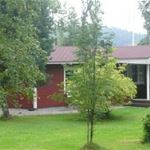 Cottages
Distance: 25.7 km
Kerttula is cozy wooden cottage, located in peaceful and quiet place on the shore of lake Vesijärvi. There is only 20 min drive away to Lahti, and a little bit more than 1 hour to Helsinki.