Адрес: Rälssintie 1, 16710 Hollola kk

Kapatuosia hillfort is located to the north of Hollola Church.

The medieval church and the hillfort form a unique setting with regard to landscape and historical aspects. The hill of Kapatuosia and its surroundings were already inhabited in the Stone Age, around 8,000 years ago.
The hillfort is an isolated ridge formation with very sharp features, which was created by glacial streams and shaped by the action of water on its shores in the last stages of the Ice Age. The site was an island surrounded by water in the Stone Age, and at present it rises some 56 metres above the level of Lake Vesijärvi. Archaeological excavations in the area have revealed artefacts and flakes of quartz and fragments of burnt bone. From the Viking Age until at least the Middle Ages, the hill may have been a place of defence and refuge. Excavations have also found a cache from the Crusade Period containing cut coins and fragments of ornaments and other metal objects, beads made of glass paste and pottery.

Walking routes on Kapatuosia hill are marked with signs. Please proceed only on foot and keep to the posted routes, as the soil on the slopes of the hillfort can easily slide. An information sign and a viewing tower are situated on the top of the hill.

You can also arrive at Kapatuosia hillfort by public transport. The buses 4 and 11 (you have to change buses at Hollola town center) can take you less than a kilometer away from the trail to the hillfort. Please check the current timetable for the bus at lsl.fi, there may be some changes from time to time.
Показать больше
Близлежащие гостиницы/жилье
Cottages
Расстояние: 6,7 км
Roundlog cottage by Lake Vesijärvi, 12 km north-west of Lahti.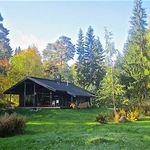 Cottages
Расстояние: 6,9 км
Wooden/log cottage by Lake Vesijärvi, 12 km north-west of Lahti.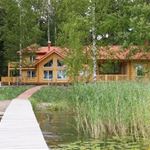 Cottages
Расстояние: 6,9 км
Villa Aleksi is spacious log villa made by Finnish Mammuttihirsi company. It has facilities for accommodation of 10 guests, so even bigger companies can stay together and relax from hustle and the bustle of big cities.