The pristine waters, esker islands, rugged cliffs and bird islets of Päijänne National Park form an entity that is unique in terms of landscape and nature. The national park includes approximately 50 unbuilt islands and rocky islets as well as parts of a few inhabited islands in the southern part of Finland's second largest lake, Päijänne.
Kelvenne Island provides hikers, boaters and paddlers with wonderful sandy beaches, pine forests, groves of leafy vegetation, kettle hole bays that serve as natural harbours and a 9-kilometre-long hiking trail that runs through the island. Kelvenne and the majority of the other islands in the park can only be reached by boat. The municipalities of the area – Padasjoki, Asikkala and Sysmä - have guest harbours with services, and entrepreneurs offer taxi boat, cruise and ferry services.

You can also explore the park without going out on the water, on the Pulkkilanharju Nature Trail and Päijätsalo Island. The observation tower built in 1899 at the highest point of the island provides a spectacular view towards the open waters of Tehinselkä. Päijänne National Park is one of the most important sites of Salpausselkä Aspiring UNESCO Global Geopark.

Rich geology
Some of the park's numerous islands with sandy shores are parts of esker chains that were formed at the end of the last Ice Age around 11,500 years ago. The chain of esker islands between the open waters of Hinttolanselkä and Tehinselkä is particularly important in terms of landscape. In combination with the underwater ridges between the islands, it forms an impressive continuum stretching towards the continent in the south. The most impressive of these esker islands is the 8-kilometre-long Kelvenne with its deep, sheltered kettle hole bays.

The rock islands of the park are typical of the rocky hill terrain in Päijänne, which is a remnant of a folded mountain range that formed nearly two billion years ago. The shorelines of the rock islands are very different from the esker landscape. For example, the cliff faces of Haukkasalo rise dozens of metres straight up from the surface of Lake Päijänne, continuing as vertical rock walls below the water surface to depths of up to 10 metres.

Esker nature
An example of vegetation typical to eskers of the park are the dry groves on the upper slopes and crest of Kelvenne Island, where leafy vegetation like Mezereon (Daphne mezereum), Cinnamon Rose (Rosa majalis) and Little-leaf Linden (Tilia cordata) grow. Beautiful lush groves can be found in Virmailansaari Island, which is accessible by land. The park is home to numerous bird species typical to large lakes, shorelines, old-growth forests and groves. Small islands and skerries are especially important nesting grounds for birds. Moving around and landing is forbidden on some of the islands from 15 April to 31 July to protect nesting birds.

The archipelago nature is sensitive to erosion and disturbances, so please help us preserve it. Follow the park regulations and outdoor etiquette, respecting nature and fellow hikers. https://www.nationalparks.fi/en/hikinginfinland/visitorguidelines.
Показать больше
Близлежащие гостиницы/жилье
Cottages
Расстояние: 8,5 км
Log cottage by Lake Päijänne, 35 km north of Lahti.
Cottages
Расстояние: 9,4 км
A holiday village in Padasjoki, by Lake Päijänne and close to Päijänne National Park. There are four cottages for 7+3 persons and two cottages for 12+3 persons. Only 2,5 hour trip from Helsinki by car.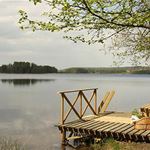 Cottages
Расстояние: 11 км
35 km north of Lahti. Lake Päijänne 40 m, clay bottom. Own boat.