Адрес: Aikkalantie 37, 15880 Hollola

Countryside Restaurant Hollolan Hirvi is located 3 km from Hollola municipal center and it is specialized in organizing various events. The restaurant building was built in 1900. The former barn with its 120 cm thick granite walls was renovated and converted for restaurant use in 1999. The restaurant has for several years provided modern tastes of local food, drink and program services.
Hollolan Hirvi is a suitable for various business and private events such as meetings, parties or dinners. Seating is available for up to 180 people during the summer season.

Hollola Hirvi's own brewery produces beer, handcrafted without automation, mainly for the sale of its own restaurant. The beer school provides an opportunity to learn about the history and brewing of beer.

Hollola Hirvi's atmospheric, award-winning smoke sauna is suitable for e.g. sauna yoga and herbal sauna programs. The terrace offers great views of the beautiful countryside. The sauna terrace has a hot tub and a fireplace. Maximum of 24 people can be seated in the sauna.

The host of the house will be happy to briefly tell you about the history of the place. Available also in English, German and Swedish (booked in advance). Duration about 5 to 15 minutes.
Показать больше
Близлежащие гостиницы/жилье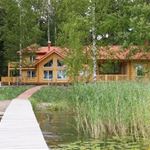 Cottages
Расстояние: 6,3 км
Villa Aleksi is spacious log villa made by Finnish Mammuttihirsi company. It has facilities for accommodation of 10 guests, so even bigger companies can stay together and relax from hustle and the bustle of big cities.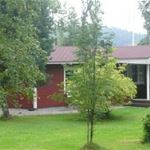 Cottages
Расстояние: 6,5 км
Kerttula is cozy wooden cottage, located in peaceful and quiet place on the shore of lake Vesijärvi. There is only 20 min drive away to Lahti, and a little bit more than 1 hour to Helsinki.
Cottages
Расстояние: 7,6 км
Roundlog cottage by Lake Vesijärvi, 12 km north-west of Lahti.