Адрес: Terveystie 7, 15870 Hollola

In the Hollola municipal centre, right next to the services situates 15 metres Salpa-Suppa kettle hole. The kettle-hole is also easily accessible by public transport. This natural site created by the ice age, can be explored from accessible viewing platform or by descending to the bottom of kettle along the stairs or slopes on the winding paths. The stairs are also suitable for running.
Kettle holes are among the most distinctive marks of the Ice Age. They formed during the deglaciation stage of the continental ice sheet, when large blocks of ice were detached. These ice blocks were buried in the sand and gravel deposited by the glacial melt waters. As the ice melted, the land around the blocks collapsed forming the pitted kettle landscape. Salpa-suppa kettle is one of the sites of the Salpausselkä aspiring UNESCO Global Geopark.

The micro-climate of kettle holes is interesting, since cold air sinks downwards, and it can be several degrees colder at the bottom of the kettle than it is up at the edge of the kettle. This temperature difference can best be noticed in spring, when there can still be snow and ice at the bottom of the kettle, even though it has otherwise melted in surrounding areas.

You can also arrive at Salpa-Suppa kettle by public transport. Buses 4 and 8 can take you less than half a kilometer away from the stairs to the kettle. Please check the current timetable for the bus at lsl.fi, there may be some changes from time to time.
Показать больше
Близлежащие гостиницы/жилье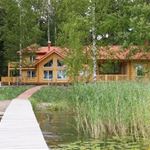 Cottages
Расстояние: 3,9 км
Villa Aleksi is spacious log villa made by Finnish Mammuttihirsi company. It has facilities for accommodation of 10 guests, so even bigger companies can stay together and relax from hustle and the bustle of big cities.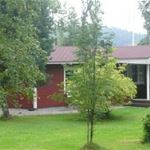 Cottages
Расстояние: 4 км
Kerttula is cozy wooden cottage, located in peaceful and quiet place on the shore of lake Vesijärvi. There is only 20 min drive away to Lahti, and a little bit more than 1 hour to Helsinki.
Cottages
Расстояние: 5,3 км
Roundlog cottage by Lake Vesijärvi, 12 km north-west of Lahti.